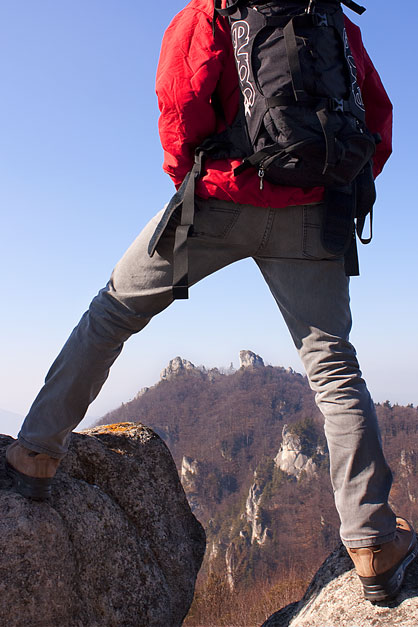 The numerous activities in Sulov Mountains offer great variety for any visitor. There is rock climbing, hiking, mountain biking or horse riding for the outdoor enthusiasts, but also historical castles, museums, traditional village folklore and spa for your relaxation.
Hiking
Hiking in Sulov Mountains is possible throughout the whole year. Each season reveals another beauty of the mother nature – from the flowering meadows in spring, relaxed summer weather, over colorful autumn woods, up to snowy winter idyl.
Small relevation gains and short distances make the area suitable also for untrained hikers, children and active seniors. On some places you will encounter ladders or chains to help you overcome problematic spots.
Rock climbing
The Sulov climbing routes are in average 15-40m long and rated as grades 4-10 UIAA. Many additional routes are located in Manin Gorge area (Manínska tiesňava a Kostolecká tiesňava) and Pastina Zavada – most frequently rated as 6-8 UIAA.
Castles
There are several medieval castle ruins in the Sulov Mountains area – Sulov, Lietava and Hricov. All of them are freely accessible by a shorter hike.
Conglomerate rocks
The conglomerate rocks in this area often form very interesting even bizarre shapes as needles, windows and gates. For this reason they are known by creative names as the Gothic gate, The big and little owl, Stone mushroom etc.
Mountain Biking
BIking trails in Sulov are especially suitable for MTBs. The annual cyclomarathon takes place in June offering several routes of different difficulty and length.
Horse Riding
The Sulov Ranch offers scamps with beautiful views of the Sulov Mountains, horse riding lessons and hippotherapy. During the summer season you can buy fresh organic sheep cheese directly at the farm in Sulov village.
Wedding palace, Budatin castle
Dive into the history by visiting the Wedding palace in the close city of Bytca or the Budatin castle with interesting tinker museum in district town of Zilina.
Spa & Massages
Enjoy being pampered with massages & spa procedures in the popular spa resort Rajecke Teplice.